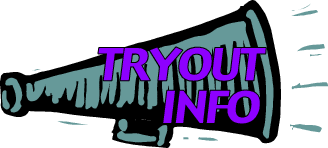 Hi, Coach Trace here. A couple of things annoy me.
1. Team web sites that you can't figure out how to get in contact with the coach.
Coach Trace. (519) 902-1270. Email: CoachT@PowerCheerleading.com
2. Prospective team members that blindly email me asking for "information" about the team.
- Read all of this page plus all of the info on the RAH STATS link and look at all the pictures and such on the web site. Then...don't email me...CALL ME. I am a brutal typer and although I live on a computer, my keyboard skills suck and I am even worse on a touch screen (phone or iPad). I would rather talk to a potential recruit or team prospect.
---
FALL WALK-ON TRYOUTS (Held on the first SUNDAY after Labor Day Weekend) 11:00am - at the Alumni Field beside TD Stadium.
The team trains exclusively at the Power Cheer Gym. It is an off campus location and as such - we face the obstacle of getting potential tryout candidates over to the gym for the tryout. We actually prefer to have the September tryouts IN THE STADIUM (cliche - yes, but a lot easier). If the weather does not cooperate, we have to make a last minute (day of) switch to have everyone head over to the one of the gyms on campus or the Power Cheer Gym (off site). As such if the weather is questionable, we have ALUMNI HALL as back up (Sept 8, 2019)
---
Most popular Q's and A's throughout the year (not necessarily applicable in Sept.):
"But I am going home that weekend, will there be another Tryout?". No. Work around it.
"How many people make the team?" As many as we want - as long as they are good. And Athletic.
I haven't been accepted at UWO - should I still call the coach? Yes
"How do I get to the gym from campus?" Call the coach, we can arange a ride. (or click here)
"Should I wait until the fall tryouts?" No
"I don't have a way to get to London?" Find one. Problem solving is part of university.
"I don't live in Ontario." Call the coach - and talk about doing a skills video.
"I have a Frosh thing with my Res - will there be another tryout?" - No
"What if I don't like Football??" | Option 1 | Option 2 | Option 3 |
than write to you.
---
The key to earning a spot on the squad is to be highly athletic. We look for fit, strong, adaptable athletes that can learn quickly and that have the raw talent needed to excel. We do not have a list of "required" skills but it is useful to note that we do not cheer, dance, jump or do "motions" at our tryouts. You will stunt, tumble and run and will engage in some basic fitness testing (push ups, sit ups, vertical jump testing). The stunts are pretty basic: toss chair, toss hands (extension/lib etc). We do not expect that you have done these skills before. We do look for good jumpers who can stay tight and learn quickly during the tryout session.
We do not have individuals attend the Spring Tryout, who have not been pre-scouted (at competition, camp, visit, video etc). Similarly we do not invite individuals who are "team shopping" and just want to "see what it was like".
It is never too late to tryout and/or talk to the coach. In the perfect world, 100% of the next year's team members would come to the Spring Tryout, then we would get rolling. This is entirely unrealistic. Every year, we acquire excellent team members both at the Fall Walk-ons and throughout the summer. The key for YOU, is to not delay getting in touch with the coach.
---
The Fall Walk-on Tryouts for both the Coed and All-Girl teams, will happen together at 11:00am.
Spring Tryouts: These tryouts are by invitation only if you are currently not enrolled at UWO. To be considered for invitation, you MUST first CALL AND SPEAK TO THE COACH and/or meet with coach Trace (preferably at the Power Cheer Gym) and/or be scouted during the school year. Out of provide candidates are encouraged to call coach Trace to discuss attending the tryout and/or put together a personal highlight video tape.
Mid Summer Pick Ups: Many team members were unable to attend the Spring Tryout or did not expect to get accepted at UWO until the summer. If YOU are such a person and wish to get rolling with the Mustangs, you MUST call coach Trace and arrange a pre-practice visit or workout. We often time arrange to meet with you when you are in town for your campus tour or class selection day. Please do NOT wait until the late summer to contact the coach. The sooner we know about YOU, the sooner we can get you prepared to cheer for the Stangs. I was Accepted at UWO...what now?


Pre-Season Training Camp: The Mustangs active during summer practices, attend a 5 day training camp in the US. Locations vary from year to year and specific dates/locations will be discussed 'in house' at the summer practices. All team members who attend will be active during Orientation Week and the opening games. Late summer additions to the program who meet team criteria/needs will be phased in to the squad.

Pre-Season Home Training Camp: All team members return to London for a three day pre-season prep camp on the Labor Day weekend. It is fondly referred to as Hell Camp. Home camp starts on the Wednesday prior to the Labour Day weekend (afternoon) and runs through Sunday afternoon (move in day). The league opener football game is on Labour Day Monday (often as a televised night game).
---
Scholarships: There is currently no post secondary institution in Canada, that offers athletic scholarship assistance to cheerleading team members. UWO does however have hundreds of academic scholarship, bursary and student aid programs available through the Student Awards/Aid office. There are scholarships awards by various provincial and private cheer organizations but you must seek these out and apply for them outside of the context of the UWO program. NOTE: every year, we receive dozens of calls and emails asking about our scholarship program. PLEASE read THIS paragraph and act accordingly.
Admissions: Click HERE for UWO Admissions and Registrars Pages.
Head Coach: David-Lee "Trace" Tracey (with the team since 1980)
Phones (519) 902-1270 (cell)
Power Cheer Gym: (519) 667-0565 (evening only)
Varsity and JV Sept 1998 - - - - - - - - - - - - - - - Sunshine and Mascot J.W. - - - - - - - - - - - - At Kellogg's Promotion 2001